Skip to Content
Atlanta, GA's Reliable Range Rover Repair Pros
At Bear Valley Service, you can feel comfortable with the high level of service you receive for your Range Rover repair needs. We have the specialized expertise and equipment you find at dealerships without the sky-high prices. Range Rovers are, without a doubt, one of the most durable vehicles found anywhere. Still, regular use and exposure to weather and other adverse driving conditions can render your luxury sports utility vehicle (SUV) to running below its peak performance. When you encounter problems with your Range Rover's operation, you may need repairs. You should never delay repairs to your vehicle because it may develop even more damage and put the welfare of you and your passengers at risk whenever you hit the road. Taking your vehicle to a regular auto repair shop in the Atlanta, GA area seems like a convenient solution to your car trouble. However, their inexperience with Range Rovers and lack of factory-certified tools and equipment may result in subpar repairs and the need for additional service. Bring your vehicle to us to ensure you get high-quality repairs with specialized knowledge and equipment for your Range Rover.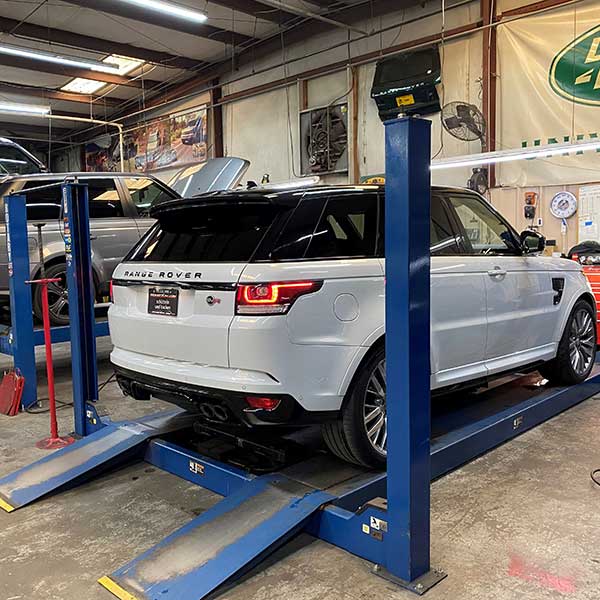 Repair Services Tailored to Your Specific Vehicle
At our independent full-service repair facility, our substantial credentials in Range Rover repair include certificates that validate our credibility and first-hand experience with nearly every imaginable automotive issue. We use state-of-the-art diagnostic tools that accurately identify the specific parts that require repair or replacement. We keep our facility equipped with genuine Range Rover parts, as well as other manufacturer parts to fit your budgetary needs. Besides your financial concerns, we perform all repairs in a timely manner and ensure they restore your Range Rover's optimal performance. If you're unsure whether your vehicle requires repairs, visit us to get a free inspection and estimate on any services your Range Rover needs. We take pride in the quality of our repairs and the customer service you receive.
Extensive Repair Services
You'll find our services exceed the care other specialized dealership service centers offer. While our list of services is extensive, some common range rover repairs we perform include the following:
Wheels and Tires
Electrical System
Axles and Rods
Brakes and Rotors
Steering System
Engine Cooling System
Fuel System and Fuel Injector
Car Locks and Security System
Air Conditioning and Heat
Manual and Automatic Transmissions
Interior Repairs, including:

Seats
Control Panel
Headliner
Instruments
Sound System
Steering Wheel
Trust Our Certified Technicians with Your Repair Needs
Make sure your Range Rover gets the best possible care to keep it running optimally by visiting Bear Valley Service. Our full-service repair shop in Roswell offers certified and experienced Range Rover repair technicians, and we have a comfortable waiting room for you to relax in while we perform minor repairs. Don't wait to get repairs for your Range Rover and let little problems turn into expensive issues. Give us a call today to schedule service or request a free inspection and estimate.
Specialists in Exceptional Repairs, Maintenance, & Service